Łatwy montaż i więcej czasu w trasie
Schaeffler rozszerza swoją ofertę łożysk kół dla pojazdów ciężarowych – dostępny jest już nowy katalog dla rynku części zamiennych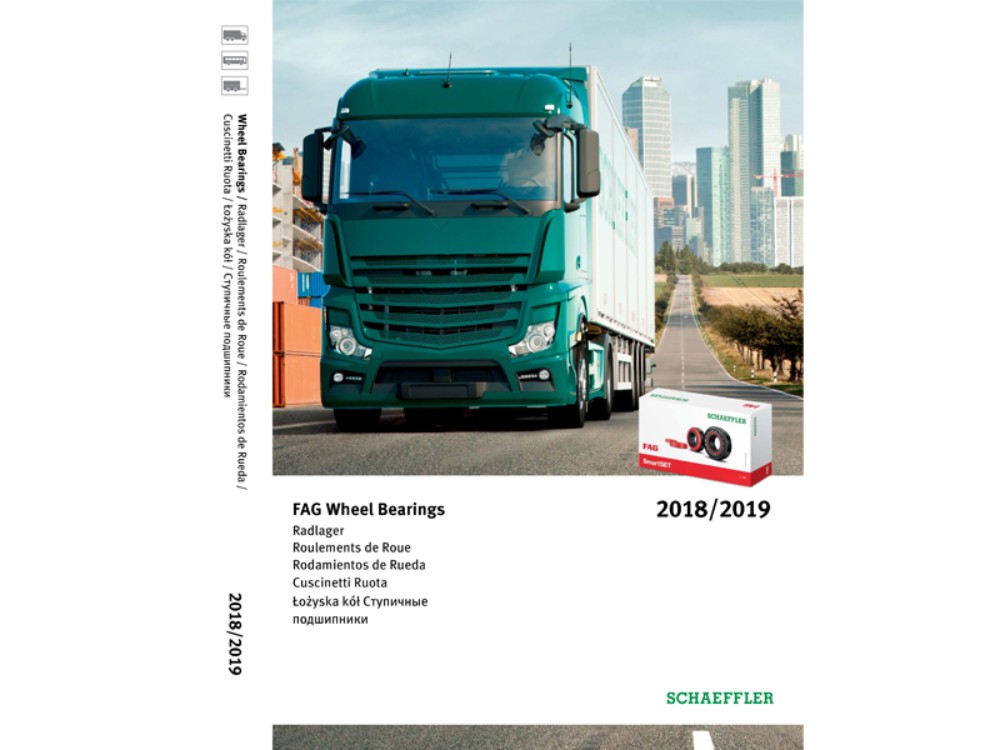 2019-01-02 | Warszawa
Nowy katalog Schaeffler "FAG Wheel Bearings 2018/2019 for Heavy Commercial Vehicles" oferuje najwyższej jakości zestawy naprawcze dla prawie każdego zastosowania w segmencie ciężarowym. Pod marką FAG, Schaeffler ma w swojej ofercie ponad 200 różnych artykułów dla najważniejszych producentów samochodów ciężarowych, autobusów i osi. Warsztaty mogą wybierać od pojedynczych standardowych łożysk stożkowych, aż po wstępnie zmontowane i nasmarowane moduły łożyska, takie jak FAG RIU (Repair Insert Unit) oraz FAG SmartSET. A to jeszcze nie wszystko. Portfolio zostało niedawno rozszerzone o nowe zestawy FAG SmartSET.
Rozszerzenie oferty o wstępnie zmontowane moduły spełnia oczekiwania rynku. "Wraz z rosnącymi kosztami i konkurencją, floty muszą zwiększać mobilność swoich pojazdów oraz obniżać całkowity koszt ich posiadania. Nasze łatwe w montażu i zapewniające długi przebieg zestawy naprawcze łożysk kół są precyzyjnie dopasowane do potrzeb konkretnego pojazdu," tłumaczy Keith Leadbeater, dyrektor Commercial Vehicles w Schaeffler Automotive Aftermarket. Koszty naprawy są ważne, ale przestoje związane z naprawą mają szczególne znaczenie w segmencie pojazdów użytkowych. Dlatego Schaeffler koncentruje się na wstępnie zmontowanych i fabrycznie nasmarowanych zestawach łożysk, takich jak FAG SmartSET, FAG RIU, FAG Truck Hub Unit (THU), czy też FAG Truck Axle Module (TAM). Zalety zestawów łożysk – zmniejszają ryzyko ewentualnych błędów podczas montażu i przestoje związane z naprawą, a także charakteryzują się wydłużonym czasem eksploatacji. Dobrym przykładem jest zestaw FAG SmartSET, którego oferta jest ciągle poszerzana. To gotowe do zamontowania rozwiązanie naprawcze jest obecnie dostępne dla 21 zastosowań – jest ono odpowiednie dla pojazdów od najważniejszych producentów ciężarówek (MAN, Mercedes-Benz, Renault i Volvo), autobusów (Bova, Mercedes-Benz, Setra i Volvo), oraz osi (ADR, BPW, Gigant, Meritor i SAF). Nowością jest także zestaw "FAG Universal Wheel Bearing Pusher Plates", który zapewnia prawidłowe dopasowanie za każdym razem podczas wciskania FAG SmartSET lub FAG RIU w piastę.
Ten 800-stronnicowy katalog dostępny jest u partnerów handlowych Schaeffler Automotive Aftermarket. Wszystkie informacje dostępne są w siedmiu językach - po angielsku, francusku, niemiecku, włosku, hiszpańsku, polsku i rosyjsku. Użytkownicy mogą wyszukać odpowiedni produkt przy użyciu 9-cyfrowego numeru referencji lub alternatywnie, przy użyciu informacji o pojeździe. Katalog można także pobrać ze strony www.schaeffler.pl oraz www.repxpert.pl.
Publisher: Schaeffler Polska
Country: Poland
Share Page